Outgoing Commissioner Relocating Out-of-District, Position Open for Appointment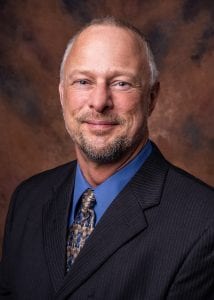 [Chehalis, WA] — The Port of Chehalis announced today that Port of Chehalis Commissioner Ken Kostick has resigned from the Port Commission effective today, April 22. Commissioner Kostick has informed the Port of Chehalis Commission and staff that he will be relocating outside of his elected port district, district 2, and will no longer be eligible to serve as a port commissioner.
Commissioner Kostick was elected to the Port of Chehalis Commission in District 2 in 2007 and began his term in 2008, now having served the public for more than 13 years. During his time in office, Commissioner Kostick was fortunate to see the opening of the LaBree Road overpass in Chehalis, having joined the port just prior to the project's completion. He served on the port commission through the development of several Port of Chehalis facilities, such as the Pleasant Valley Mitigation Site, Chehalis Coworks, Habitat for Humanity, Southwest WA Grain Project, and the Pemerl Building. Kostick was also part of the port team during several milestone property sales and expansions, including Pacific Mobile Structures Inc., Centralia Chehalis Railroad & Museum, Sound Wood Products, and McCallum Rock Drilling.
"I'm very appreciative to have been a part of the Port Commission and I take pride in what we've done at the port," says Kostick. "I've been very honored, really, to have been a part of the future. You don't typically see an immediate reward and success from what you're doing as a Port Commissioner, more often you're taking the steps that lay the foundation for future success. It's been a great opportunity, and in that my constituents have trusted in me in the two elections since, it's been very positive from that standpoint."
When asked what he was most proud of during his time as a port commissioner, Kostick pointed to relationships.
"I'm most proud of the continued positive relationships we've developed with our partners at other private and government organizations. We've done the right things for the right reasons, and we have built strong partnerships that have delivered great results for the public" he said.
Commissioner Kostick noted that he originally filed to run for an elected position on the Port of Chehalis Commission after being inspired by the service of longtime port commissioner Dr. Mark Giffey. Kostick also says that the late Rob Fuller, of Chehalis, was instrumental in encouraging him to campaign to serve on the Port of Chehalis Commission as well.
Upon formally resigning from the Port of Chehalis Commission as of today's Port Commission meeting, Kostick will continue to reside here in the Lewis County area with his family and will continue in his employment with both Quanex Building Products Corporation and Bigfoot Permit Company in Chehalis.
Formal details about the appointment process for Commissioner Kostick's impending vacant seat on the commission will be released in the coming days. Interested applicants are encouraged to watch our website and Facebook page for the latest updates.
For more information about the Port of Chehalis please visit https://PortofChehalis.com.
###
Port of Chehalis Media Contact
Lindsey Senter
Director of Finance & Administration
lsenter@portofchehalis.com
(360) 748–9365
portofchehalis.com
Port of Chehalis Port Commission District Map